Eleven Members of Rosarian Academy Community Journey to Hear Pope Speak to Congress: Once-In-A-Lifetime Opportunity
October 2015
Six Rosarian Academy eighth graders and four chaperones were fortunate to be a part of history when they travelled to Washington, D.C. to see Pope Francis on September 24, 2015, during his six-day U.S. visit.
Thanks to West Palm Beach U.S. Rep. Lois Frankel, (D-Fla.), the school received eleven tickets to view the Pope's widely-anticipated Congressional speech on two jumbotron screens from the Capitol's West Front, the site of presidential inaugurations. Those attending were: Hailey Albergo, Charlotte Breckenridge, Peter Fields, Robert Fox, Liam Groth, and Mariana Perez-Vargas, as well as chaperones Steve Rubenacker, Head of School, Sr. Donna Baker, Middle School Director and eighth grade religion teacher, Francesca Coniglio Finck, Middle School religion teacher and Spiritual Life Coordinator, Silvia Pariseleti, Spanish teacher, and Michael Groth, parent.
"We were honored that Rep. Frankel thought of Rosarian Academy," commented Head of School Steve Rubenacker. "Our students were elated to have had the opportunity to connect their faith and their religion classes at Rosarian with such a landmark visit by Pope Francis."
The selection of the six students who saw the Pope was based on their answers to an eighth-grade religion homework assignment which posed the question, "If you had the opportunity to meet with Pope Francis next week in D.C., what would you want to discuss with him and why?"
The group's "blue-coded" tickets gave them a 6:15 a.m. entry into the historical moment most Catholics never have: seeing the Pope in person. As the leader of the Catholic Church and the direct descendant of St. Peter, Pope Francis is the 226th pope and the first to address a joint meeting of the U.S. Congress, where 26 of the 100 members of the Senate are Catholic and 140 of the 435 members of the House of Representatives are Catholic.
Minutes before the Pope's speech to Congress, the group got a glimpse of His Holiness from a distance as he passed the crowd of 40,000+ people in his D.C. Popemobile, a retrofitted Jeep Wrangler.
"I knew that I was standing on holy ground while in the presence of the Pope," reflected Sr. Donna. "As a Dominican Sister of Adrian, we are a group of women who dedicate our lives to preaching the truth, advocating for justice, and reaching out to the marginalized. Pope Francis' message seemed to be on the same page. His life exemplifies our Rosarian Mission Statement which speaks to educating the whole person for life in a global community in the light of Gospel Values."
Following the Pope's 50-minute speech, students and chaperones walked slowly through the massive crowd to meet with Congresswoman Frankel in the Canon Office Building, where they discussed Pope Francis' message over lunch.
The students used a variety of terms to describe the experience. Hailey called it "magnificent" and said she could not really express how happy she was, while Robert Fox said it was "a very big deal" and that it was probably "the greatest honor" that he had ever received.
Liam Groth felt he was carrying the family torch to D. C.
"My 89-year-old grandmother has not even seen the Pope," he said. "As a Catholic, it is just something that everyone wants to do. I felt so fortunate to have gone."
Following lunch, the afternoon was rounded out with a lengthy, in-depth Capitol tour escorted by several of the Congresswoman's aides. Fortuitously, the tour included a stop at the statue of Saint Junipero Serra, the Spanish Franciscan missionary who established schools for American Indians along the California coast. The Mass, in which the missionary was elevated to sainthood, was the first of its kind in the U.S. The statue stands in Statuary Hall on Capitol Hill, where Serra is one of California's two statues, in the room filled with statues of the two people who best represent each state.
Although the 30+ hour adventure was soon a memory for the Rosarian group, it was an incredible memory of a once-in-a-lifetime opportunity.
"This unbelievable experience makes me want to share my faith with my students in a deeper sense," explained Mrs. Finck. "I pray that by having been in the holy presence of Pope Francis and the thousands of other people seeking a deeper relationship with Our Father, that I have enhanced my abilities to manifest discipleship in the lives of my students and in my own life. This was a once-in-a-lifetime experience and I felt incredibly blessed. God is so good!"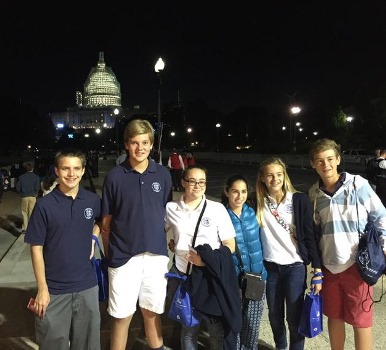 Rosarian Academy, founded in 1925, educates students from early childhood through eighth grade. The school offers an exceptionally strong academic program enriched by visual and performing arts, athletics, and community service. The independent, Catholic school is located on Flagler Drive near downtown West Palm Beach and is sponsored by the Adrian Dominican Sisters. Rosarian is celebrating its 90th anniversary this school year. For more information, visit www.rosarian.org or call 561-832-5131.