FIVE BDB INITIATIVES THAT PROMOTE EDUCATION IN PALM BEACH COUNTY
May 2018
Education is a key factor when attracting relocation and retention projects to the area. To ensure that Palm Beach County is widely recognized for its excellence in education and its qualified workforce, the BDB has several major education initiatives.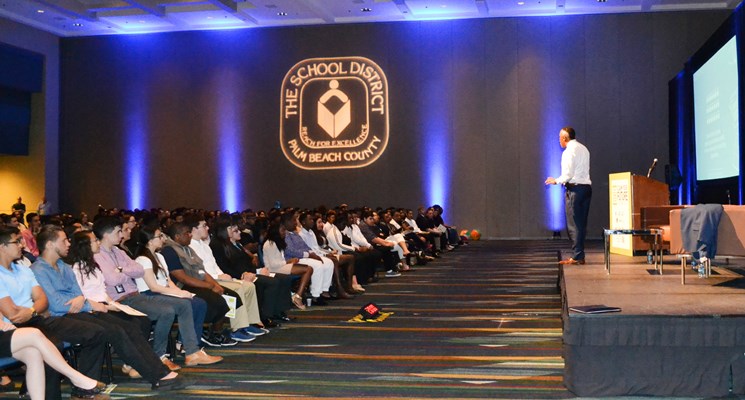 Claim Your Future Showcase
Palm Beach County is a place where dreams become reality and students are open to possibilities like becoming a scientist at Scripps Florida or building components of rockets that fly to space at Aerojet Rocketdyne. Each year, the BDB and the School District of Palm Beach County show hundreds of high school students the possible career paths available in Palm Beach County. This event demonstrates Palm Beach County's collaborative environment and helps ensure that we are retaining the top talent that\'s already here for our future workforce.
Academic Leaders Council
The Academic Leaders Council (ALC) connects businesses and schools to ensure curriculum alignment with jobs and creates a skilled workforce for the many companies relocating or growing in Palm Beach County.
The leaders of Palm Beach County's academic institutions include:
Dr. Donald E. Fennoy II, Superintendent, Palm Beach County School District
Dr. William "Bill" Fleming, President, Palm Beach Atlantic University
Dr. George Hanbury, President & CEO, Nova Southeastern University
Dr. John Kelly, President, Florida Atlantic University
Dr. Gary Vonk, Flagship President, Keiser University
Dr. Kimberly Lea, West Palm Beach Campus President, Keiser University
Ava Parker, J.D., President, Palm Beach State College
Dr. Kevin Ross, President, Lynn University
Palm Beach County Internship Expo
The BDB and CareerSource Palm Beach County joined forces to connect local talent with local businesses at the Palm Beach County Internship Expo, an idea generated by members of the BDB's Academic Leaders Council. This event is the only county-wide internship resource that is accessible to all college and university students. The past three expos were hosted at Palm Beach State College, Palm Beach Atlantic University, and Keiser University\'s Flagship campus. The next upcoming expo will be in November 2018. Contact kboyd@bdb.org if you're interested in participating.
Education Microsite
PBCedu.org markets and communicates the quality educational opportunities that exist in Palm Beach County. It demonstrates the collaborative environment and innovative technologies taking place throughout the community. It includes access to top-line data, points of pride, statistics, news, alumni and student showcases, and videos. The BDB utilizes this website as a marketing tool when facilitating new companies to the area.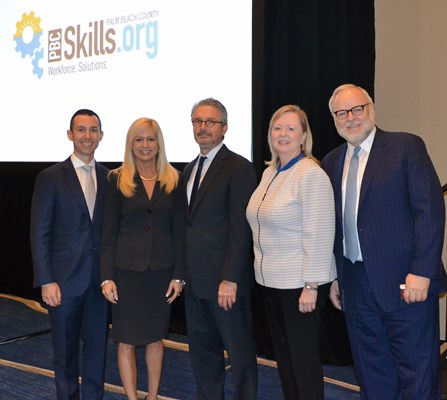 Workforce Analysis Study
With support from JP Morgan Chase, the BDB launched a comprehensive workforce study to analyze the area's labor force. The project includes a skills gap analysis and recommendations for enhancing workforce quality in Palm Beach County. This will help education institutions better understand the necessary skills needed and the challenges for employers in the county's targeted industry sectors. If you'd like to help with this study, please fill out the survey at pbcskills.org. The results of this study will be revealed in June 2018.