FLORIDA FILM STUDENTS DAZZLE ON THE RED CARPET
May 2018
The 23rd annual Palm Beach International Film Festival's Student Showcase of Films, Florida's largest student film competition and awards show, was a bona fide blockbuster! Awards and scholarships for Florida high school and college students studying film, digital media, graphic design and screenwriting were presented "Academy Awards" style at the dazzling red-carpet event on April 6th at the Wold Performing Arts Center at Lynn University in Boca Raton, FL.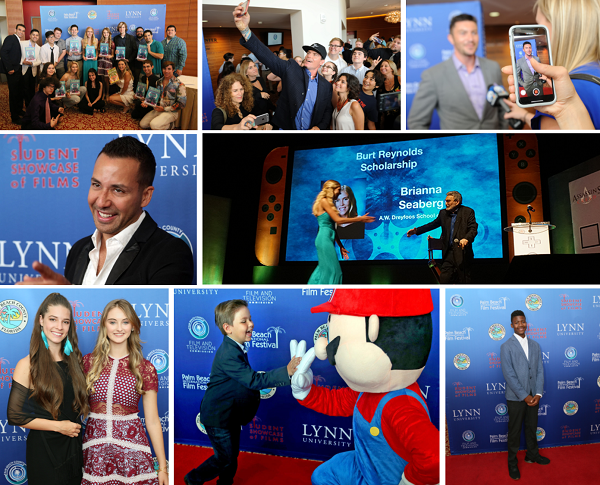 Celebrity presenters kept the excitement high during the live program, including legendary film star Burt Reynolds, music, film and TV star, Vanilla Ice, Backstreet Boy Howie D. Dorough and film actor and producer Chris Hayes.
It was a record breaking year for attendance with more than 750 fashionably dressed students who traveled to Palm Beach County from across the Sunshine State to participate in the highly anticipated event. Parents, teachers, classmates, film industry leaders, celebrities, state and county dignitaries and film enthusiasts applauded the student finalists as they strolled the red carpet, enjoying the bright lights of excellence and fame.
Award-winning writer, producer and actor, Frank Licari, the Student Showcase host for the past 11 years greeted cheering students; Vanilla Ice (Rob Van Winkle) ramped up the energy stopping for selfies, granting interviews and posing for the cameras; Howie D. Dorough, a member of the Backstreet Boys known for huge hits like "I Want It That Way" and "As Long as You Love Me," captured the crowd with his charm and charisma; and actor Chris Hayes, from the film "Divergent" among many others, escorted on the red carpet by video game characters Mario and Pikachu, enchanted all with his leading-man looks and fun personality.
This year's theme was a dazzling display of video gaming. Popular characters Mario, Pikachu and Yoshi posed for pics as guests enjoyed virtual reality stations, X-Box systems, a video gaming room and big screens provided by the Microsoft Store Town Center Mall. The 2-hour live awards presentation featured singing, dancing, humor, surprises and poignant moments as winners were announced among the three finalists for every category. The new "Academy Award" format allowed for genuine emotion as students were called to the stage to accept their trophies.
Hollywood icon and star of the new motion picture, "The Last Movie Star," Mr. Burt Reynolds made another celebrated appearance to present the coveted Burt Reynolds Scholarship to A.W. Dreyfoos School of the Arts stand-out, Brianna Seaberg.
Included among the other special guest presenters were TV pitchmen Greg Rice (Hulett Pest Control), Louis and Loretta Morano (Capital Carpet & Tile) and Bob Nichols (former news anchor, host of Storage Wars: Miami and spokesman for Gardens Pest Control), documentary filmmaker and Broadway producer Suzanne L. Niedland, Film Florida's John Lux, Artistic Director at Jupiter Maltz Theatre Andrew Kato, award-winning screenwriter Michael Chasin, Visual Effects master Dean Lyon, New York film producer Mike Wittlin, Palm Beach County environmentalist Lourdes Ferris and Information Television Network's Cristina and Ed Lerner.
Overall, more than 600 hundred student entries in 12 categories were submitted this year and judged by 42 leaders in the film industry across the globe. The best rose to the top with these amazing 2018 Student Showcase of Films Award Winners:
Burt Reynolds Scholarship ($2,500)
Brianna Seaberg, A.W. Dreyfoos School of the Arts (West Palm Beach)
Sara Fuller Scholarship ($500)
Marianna Kaimakliotis, A.W. Dreyfoos School of the Arts (West Palm Beach)
College Feature/Short Awards:
1st Place - Gabriel A. Valbuena and Tiara Olson, Florida State University ($1,200)
2nd Place - Chris Fodde and George Wehmeyer, Miami Dade College ($1,000)
3rd Place - Janeen Talbott, Florida State University ($500)
High School Feature/Short Awards:
1st Place - Matthew Manyak, Brittany Paul and Zachary Phillips, Douglas Anderson School of the Arts, Jacksonville ($1,000)
2nd Place - Bronza Fox, TJ Nitti and Krzysztof Madro, Key West High School, Key West ($800)
3rd Place - Frankie McCarty-Brown, Eva Erhardt and Noah Terrell, Howard W. Blake High School, Tampa ($400)
Suzanne L. Niedland Documentary Award ($500)
Maddie Glas, Briana Flouro-Smith and Shane Theobald, Howard W. Blake High School (Tampa)
Vanilla Ice Music Video Award ($300)
Matthew Baquero and Elias Zouak, University of Florida (Gainesville)
Keep Palm Beach County Beautiful Environmental PSA Award ($1,000)
Sean Duong, Callie Brown and Jacob Hewitt, West Orange High School (Winter Garden/Orlando)
Nellie & Fred Chasin Screenwriting Award ($500)
Molly Smith, Montverde Academy, (Montverde/Orlando)
"Know Difference" Mental Health Awareness PSA Award ($500)
Naskyya Hester, John L. Leonard High School, (Greenacres)
Animation Award ($500)
Esteban Bravo and Beth David, Ringling College of Art and Design (Sarasota)
Commercial/PSA Award ($300)
Angel Soto and Andrew Ray, Palm Beach Atlantic College (West Palm Beach)
Poster Design Award ($500)
Valentina Messina, Nova Southeastern University, (Ft. Lauderdale)
For more information about the Student Showcase of Films please visit www.pbfilm.com/student-showcase, StudentShowcaseOfFilms (Facebook) or @StudentFilmsFL (Twitter).
About the Student Showcase of Films:
Student submissions are judged by industry professionals with finalists to be presented with cash awards and prizes during the red-carpet awards show at the Wold Performing Arts Center at Lynn University in Boca Raton, Florida. The SSOF has awarded over $1.6 million in cash, prizes and scholarships in its 23-year history. Every year, the SSOF awards show attracts more than 750 students and their families, along with celebrity presenters, industry pros, media, state and county dignitaries, performers and more. Celebrity presenters have included Burt Reynolds, Vanilla Ice, Cheri Oteri, Thomas Ian Nicholas, Bruce Campbell, Clint Howard, Linda Blair, Howie D. Dorough, Chris Hayes and many more! The SSOF is funded by the Palm Beach County Board of County Commissioners through the Department of Housing & Economic Sustainability. Major sponsors include Lynn University, Greenberg Traurig LLC and the Palm Beach County Film & Television Commission. Category sponsors include Keep Palm Beach County Beautiful, Inc. (Environmental PSA Award), Film Florida (Sara Fuller Scholarship), Michael Chasin (Nellie & Fred Chasin Screenwriting Award) and the Information Television Network ("Know Difference" Mental Health Awareness PSA Award).

http://www.pbfilm.com/student-showcase