PALM BEACH ATLANTIC UNIVERSITY CUTS RIBBON ON JOHN & SHEILA RINKER SPORTS CENTER
December 2017
Three hundred student athletes joined more than 100 community and campus supporters to thank Dr. John and Dr. Sheila Rinker as they cut the ribbon on the John & Sheila Rinker Sports Center November 30.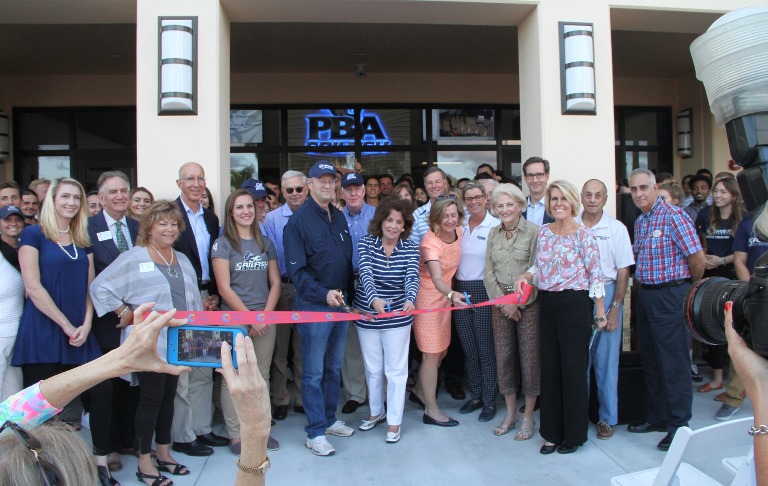 The ribbon cutting for the John & Sheila Rinker Sports Center at Palm Beach Atlantic University
Photo credit: Capehart
"It is a great investment for the students, the athletes and of course, the University," said Dr. John Rinker, president of the Marshall and Vera Lea Rinker Foundation. "Sheila and I are very proud to be a part of this, and we look forward to continued participation with Palm Beach Atlantic University."
The sports center is the anchor for the University's 76-acre Marshall and Vera Lea Rinker Athletic Campus. With more than 32,000 square feet of space, the center has six locker rooms to accommodate the Sailfish and visiting teams. Visitors enter a two-story atrium off of which are located a spacious strength and conditioning room, athletic trainers' treatment room with rehab area and whirlpool tub. The first floor also contains a conference room and serving pantry with concessions at the back of the building. Coaches and staff offices, laundry, equipment storage and team rooms complete the first floor. The second floor features a hospitality room with front and back terraces.
PBA senior David Paul, finance major and president of the Student-Athlete Advisory Committee, explained that the Rinker Sport Center gives the athletic teams a place to come together, grow and team build as a Sailfish union.
Carolyn Stone, director of athletics, stressed the importance of the values taught to the student-athletes. Sailfish athletics' true mission is to prepare students for a meaningful life, and instill values of hard work, discipline, love and servant leadership, Stone said.
Architects Leo A. Daly and Hedrick Brothers Construction Company also were acknowledged during the ceremony along with many other subcontractors and donors.
The building's opening caps off a banner year for Sailfish Athletics, which was granted full membership into the Sunshine State Conference.
Palm Beach Atlantic University is a private, independent university offering undergraduate, graduate and professional degrees in West Palm Beach, Orlando and online. The University is dedicated to the integration of Christian principles to prepare students for learning, leadership and service.