PALM BEACH ATLANTIC UNIVERSITY FREE ENTERPRISE MEDALIST INSPIRES STUDENTS TO BELIEVE IN THEMSELVES
November 2017
"Believe in yourself, because you never know what you're capable of," said David C. Novak, Yum! Brands co-founder, retired chairman and CEO as he accepted the 2017 American Free Enterprise Medal at Palm Beach Atlantic last week.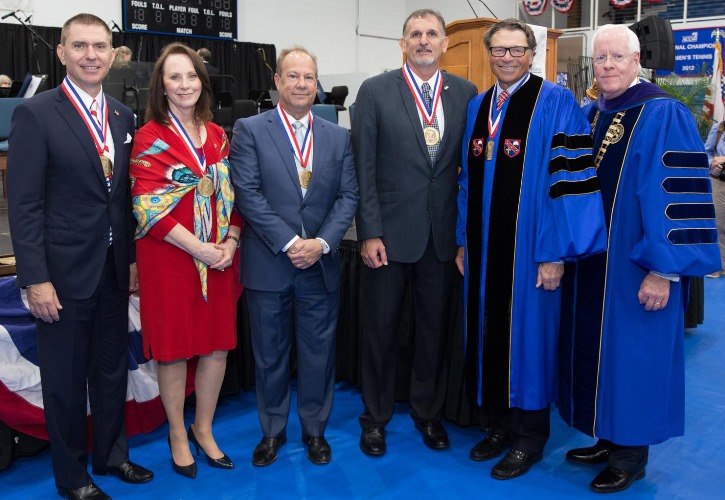 Novak, honored medalist of American Free Enterprise Day, never thought he would be as successful as he is today, coming from a working class background. Novak learned that there is no substitute for hard work and that every job has dignity, no matter how small.
"The harder you work earlier in your career, the faster you will separate yourself from others and the faster your career will take off," he told students, faculty, staff and guests at the event.
After graduating from college, Novak began his career in marketing and advertising. He met and formed a close relationship with Andy Pearson, past president of PepsiCo, who served as his mentor. Pearson belief in Novak propelled his success. The pair worked together until Pearson's death.
Novak also noted the influence of his wife, Wendy, with inspiring him. The couple formed the Lift a Life Foundation to help individuals in need reach their full potential through grants and programming in the areas of youth leadership development, hunger relief, early childhood education, juvenile diabetes and military family support.
"We all need life partners and mentors to believe in us and help us realize our capabilities," said Novak.
Novak's latest book, O Great One!: A Little Story About the Awesome Power of Recognition, shares his belief that great things happen in companies when their employees are acknowledged for their contributions. He created recognition awards at KFC, Pizza Hut and Taco Bell and used his role as the leader to encourage recognition throughout the organization.
"One credo I have always believed in is that leadership is a privilege," he said. "As you climb the ladder, stay humble and be honored by the privilege of leadership."
Also honored at the same ceremony were four companion medalists David S. Donten, CPA, and one of the founding shareholders of Caler, Donten, Cohen, Porter & Veil, P.A.; James Donnelly, founder and CEO of the Castle Group; David Wright, owner of Butterfield Pharmacy & Medical Supply; and Judith Mitchell, CEO of the Kravis Center for the Performing Arts.
Held in the Rubin Arena of the Greene Complex for Sports and Recreation and attended by students, faculty, staff and guests, the event has become an annual tradition at PBA. PBA Provost Dr. Randy Richards gave the invocation, and Dr. Craig Hanson, associate professor of philosophy and director of the Global Development department, gave the benediction.
Palm Beach Atlantic University is a private, independent university offering undergraduate, graduate and professional degrees in West Palm Beach, Orlando and online. The University is dedicated to the integration of Christian principles to prepare students for learning, leadership and service.