PALM BEACH ATLANTIC UNIVERSITY GRADUATES FIRST DOCTOR OF NURSING PRACTICE CLASS
December 2017
WEST PALM BEACH, FLORIDA – Palm Beach Atlantic University honored the first graduates of its Doctor of Nursing Practice (DNP) program at commencement December 9.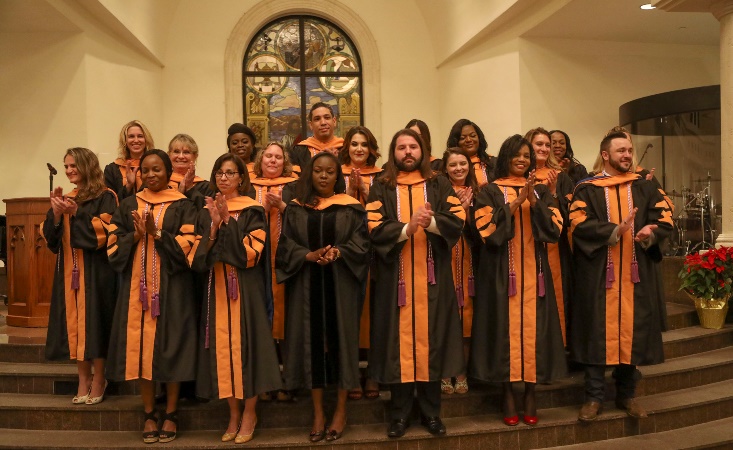 The 19 graduates in the first Doctor of Nursing Practice program at Palm Beach Atlantic University applaud their families and friends during the hooding ceremony prior to graduation.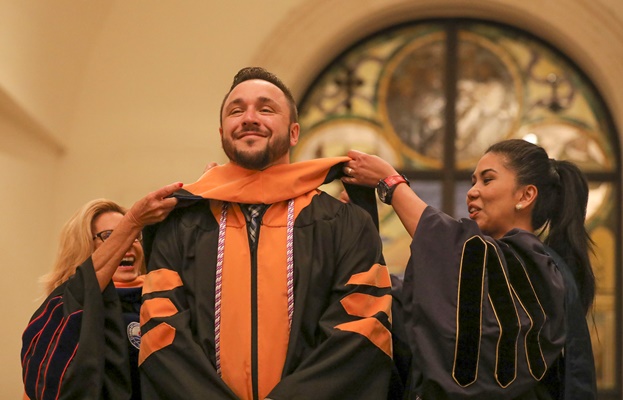 Dr. Jeffrey Zellers receives his academic hood from Director of the Graduate Nursing Program at Palm Beach Atlantic University Dr. Deborah Morgan, left, and Dr. Racquel Vera-McLean.
At a hooding ceremony prior to graduation, guest speaker Dr. Elaine Kauschinger, assistant professor in the School of Nursing at Duke University, encouraged the graduates to continue learning. She announced that Courtney Autrey, from Clewiston, Florida, received the DNP Excellence Award for the outstanding poster presentation.
Courage, intellectual curiosity, commitment, desire to lead by example and amazing faithfulness were words and phrases President William M.B. Fleming, Jr. used to describe the DNP graduates.
"My heart races because, yes I know what you will accomplish, but it races even faster for the impact that you will have on individuals, on families, on communities and how you will bless the nation," said President Fleming.
The 2017 DNP graduates are Dr. Antonio Abreu, Dr. Kettia Alusma, Dr. Briana Andrassy, Dr. Courtney Autrey, Dr. Dona Browne, Dr. Christina Campbell, Dr. Maria Gill, Dr. Vigeline Jacques, Dr. Odalys Mena, Dr. Newah MoforTawo, Dr. Angela Monprevil, Dr. Sarah Polonka, Dr. Brianna Parker, Dr. Erin Rathjen, Dr. Lindsay Shutes, Dr. Darlyne Germain Syllion, Dr. D. Alex Thomas, Dr. Fontaine Timmer and Dr. Jeffrey Zellers.
Palm Beach Atlantic University is a private, independent university offering undergraduate, graduate and professional degrees in West Palm Beach, Orlando and online. The University is dedicated to the integration of Christian principles to prepare students for learning, leadership and service.