PALM BEACH STATE LEVELS UP WITH NEW AD CAMPAIGN
December 2017
Palm Beach State College, the largest institution of higher education in Palm Beach County, has launched a new advertising campaign to elevate its image, raise awareness of its diverse academic programs and encourage students to make PBSC their first choice for higher education.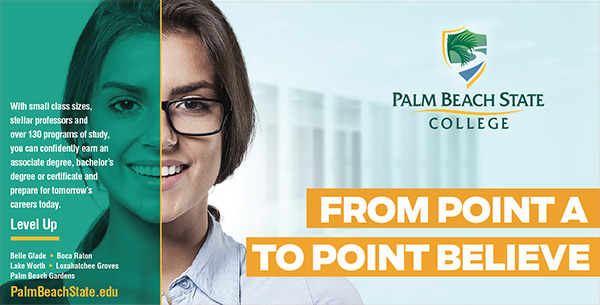 The "Level Up" campaign launched in digital media channels, including targeted display, mobile, social and streaming music. In the first half of next year, PBSC plans to ramp-up the campaign to include cable TV, radio and mall and print advertising. World Cup Sponsorships and ads in targeted African American, Haitian and Hispanic publications and on Hispanic TV stations are also elements of the campaign.
Designed by IdeaBar, a full-service advertising agency, the campaign targets four key audiences dubbed strivers, reinventors, explorers and influencers. It features captivating split face imagery, reflective of the College's diverse student population, and encourages individuals to envision a transformation from who they are today to who they can be in the future with an education from PBSC. Bold relevant headlines such as "From Undecided to Undergrad," "From Homeroom to Healthcare," and "From Cubicle to Corner Office" aim to capture their attention and speak to their personal and professional goals. The campaign reinforces PBSC's more than 130 programs of study, including bachelor's degrees, associate degrees, professional certificates and career training.
"The campaign is an expression of the PBSC brand promise of providing a transformative educational experience that improves our student's quality of life and our community," said Rachelle Franklin, interim director of college relations and marketing. "Today's students are seeking a progressive, higher level learning institution that is affordable, easily fits into their life and is dedicated to help them to rise to their own potential. At Palm Beach State, we are continuously evolving to do just that by providing a high-quality, high-touch, accessible, affordable education that helps our students better compete for the jobs of today and tomorrow and ultimately reach their career goals."
The campaign is part of PBSC President Ava L. Parker's drive to build on the 84-year history of the College and to ensure residents understand its value and impact on the community.
"We need to make people aware of how innovative and competitive the College really is. This marketing campaign reaches students where they are and shows them how they can reach their potential at PBSC,'' she said. "We're not just a college that's down the street. We're an innovative college that changes lives. The concept of "Level Up" allows our students to see themselves in one place, and then realize the dreams that they have for their lives. It also ensures that our staff and faculty will remain competitive to meet the ever-changing needs of our students."
Serving 49,000 students annually, Palm Beach State College is the largest institution of higher education in Palm Beach County, providing bachelor's degrees, associate degrees, professional certificates, career training and lifelong learning. Established in 1933 as Florida's first public community college, Palm Beach State offers more than 130 programs of study at locations in Lake Worth, Boca Raton, Palm Beach Gardens, Belle Glade and Loxahatchee Groves.