ROSARIAN ACADEMY BECOMES THE FIRST CARNEGIE STEM EXCELLENCE PATHWAY PARTNER IN FLORIDA
April 2018
Incoming Head of School Linda Trethewey recently announced Rosarian Academy is partnering with Carnegie Science Center as the first Carnegie STEM Excellence Pathway partner in the state of Florida.
Niki Atteridge, Oliver Kerkoiran, Beau Kimler, and Sterling Nolff test the Rube Goldberg machine they built during their STEM Lab class at Rosarian Academy.
"As we look to the future of Rosarian and set curricular objectives, I am thrilled that we are moving into a partnership with Carnegie Science Center. We are ready to take a big step and move our STEM program out of its infancy," said Mrs. Trethewey who will be Head of School effective July 1.
Carnegie STEM Excellence Pathway is designed to help schools adopt best practices in STEM education.
"Our goal is to infuse STEM into all areas of the curriculum at all grade levels. To achieve this goal, we will meet with Science Center STEM experts to help us develop a tailored plan to strengthen our STEM curriculum," added Mrs. Trethewey.
The Pathway is a process of continuous improvement that provides guidance to schools on how best to address the challenge of strengthening their STEM programming. The Pathway has attracted over4,600 participating schools or districts in 22 states and the District of Columbia and serves over 1.5 million students.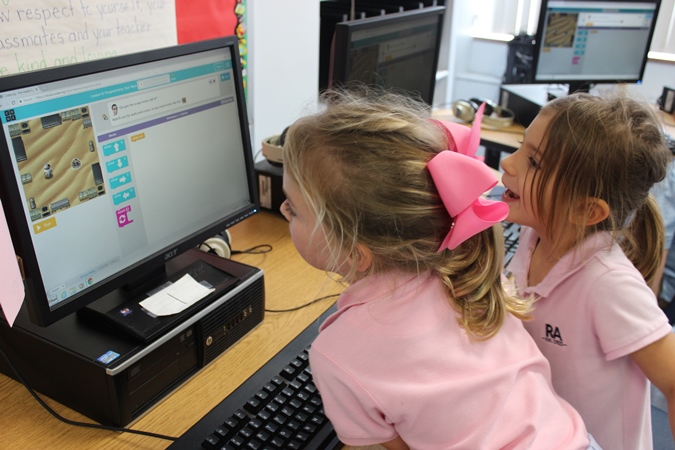 Kindergarten students, Annabelle Coleman and Olivia Logsdon, participate in a Star Wars activity where they used coding blocks to help BB-8 gather metal.
Rosarian is working with Toni Stith, the STEM Professional Development Manager, Chevron Center for STEM Education & Career Development at Carnegie Science Center in Pittsburgh, PA. Toni has worked with many schools across the country in assessing, planning for, and executing their STEM initiatives in tandem with the Carnegie STEM Excellence Pathway.
The school will first evaluate itself on 20 criteria pertinent to quality STEM education and then develop a tailored strategy to identify and address specific self-defined goals, which are reinforced throughout the students' experiences in the classroom and during out-of-school time.
Fourth-graders Liam Stetson and Landon Ferguson use Lego EV3s to build a robot that folds t-shirts in after-school Tech Club.

Through Carnegie Science Center, Rosarian will provide intensive professional development sessions for teachers in June at the conclusion of the school year and then prior to the start of school in August. The entire STEM professional development program has been funded by a generous gift from Palm Beach resident Estelle Curran, grandmother of Sophia, Serena and Preston who all attend Rosarian.
This shared learning process and continuous curricular improvement is the school's commitment to preparing its students for any career path in the 21st century.
According to Trethewey, "We continue to fulfill our mission of educating the whole person for life and providing a foundation for life."
Rosarian Academy, founded in 1925, educates students from early childhood through eighth grade and offers an exceptionally strong academic program enriched by athletics, visual and performing arts, and community service opportunities. STEM, coding, art, drama, music theory, and Spanish classes begin in kindergarten. The independent, Catholic school is located on Flagler Drive in downtown West Palm Beach and is sponsored by the Adrian Dominican Sisters. Complimentary bus service is available throughout Palm Beach County. For more information, visit www.rosarian.org or call 561.345.3106.