ROSARIAN ACADEMY GRADUATES 30 STUDENTS AS ITS CLASS OF 2018
May 2018
Rosarian Academy graduated another 30 young men and women from its eighth grade class on Thursday, May 24, 2018, in the school Theater. Class of 2009 alumna, Melanie Grande, addressed the Class of 2018 as the commencement speaker. It was a beautiful graduation ceremony, honoring the graduates for their hard work and achievements.
Melanie spoke to the graduates about her dream to become an astronaut and how that dream motivates her: "I had a big dream, and this is where it started. I decided right here at Rosarian that I was going to be an astronaut...This desire to contribute to human spaceflight engineering and to one day rocket into space myself got me through high school. It got me through college, and it still gets me through the tough times."
She encouraged the graduates to find something that motivates them, hold onto it, and "let the passion define your journey." Next, she said, "Throw yourself out there…so many of the experiences and opportunities that will shape your life come from going out into the world."
Earlier this year, Melanie was selected by the Purdue chapter of The Mars Society to be part of a seven-person team in a two-week simulation mission at the Mars Desert Research Station in Utah. Melanie spoke about this experience as the only woman on the team and what it is like to be a minority in a very white male-dominated field, "It doesn't have to define you…Don't let it stop you…No matter who you are, you bring a unique perspective to the table."
She closed with, "You are you, an individual with hopes, dreams, and goals…So, when you find that motivation, and you find those experiences and opportunities, you pursue them with all your heart."
A "Charter Club" member of Rosarian Academy, Melanie attended Rosarian continuously from the Early Childhood Montessori program through eighth grade. She graduated from Rosarian with the highest GPA in her graduating class and proceeded to attend Suncoast Community High School with her focus in math, science and engineering. She holds an undergraduate degree from Purdue University in aeronautics and astronautics. Melanie currently works for NASA at Langley Research Center in Hampton, Virginia. She will return to Purdue for graduate school in August.
Following the commencement address, eighth-grade class president, Macarena Gonzalez-Cabanellas, presented the class gift of a mosaic cross. The eighth grade coordinated and produced a school-wide talent show to raise money for this gift.
Special awards given to students included the 2018 President's Award for Outstanding Academic Excellence, presented to Maggie Acosta for earning the highest academic achievement in the eighth grade class; the St. Dominic Award, presented to Christian Azqueta and Robby Vargas, for demonstrating a strong belief in God, the pursuit of truth in all forms, and the Christian values of kindness, respect and integrity; and the Rowdy Award, honoring Christian Azqueta and Wilder Breckenridge for three years of outstanding dedication and participation in school athletics. Outstanding achievement in subject area awards went to: Religion, Delaney Groth; Literature, Caleb Curtis; English, Mercedes Cassidy; Geometry, Madison Fabbri; Algebra I, Joseph Coates; Pre-Algebra, Kalla Kerkorian; History, Finley Murray; Science, Macarena Gonzalez; Spanish, Caleb Curtis; STEM, Chase Koeppel; Art, Logan McGruder; Drama, Robby Vargas; Music, Emma Hardyman; Physical Education, Jack Keogh.
Head of School Stephen Rubenacker closed the ceremony with a few words about the Class of 2018:
"The class you see before you represents a continuing legacy that started over 90 years ago. Our Adrian Dominican roots have instilled the power of prayer, the importance of service, and the need for a critical intellect that has the potential not only to challenge injustice but also to seek truth, make peace and reverence life. Your diplomas should always remind you of this and that you will forever be part of this community—one that has obligations to others and to a God who created you."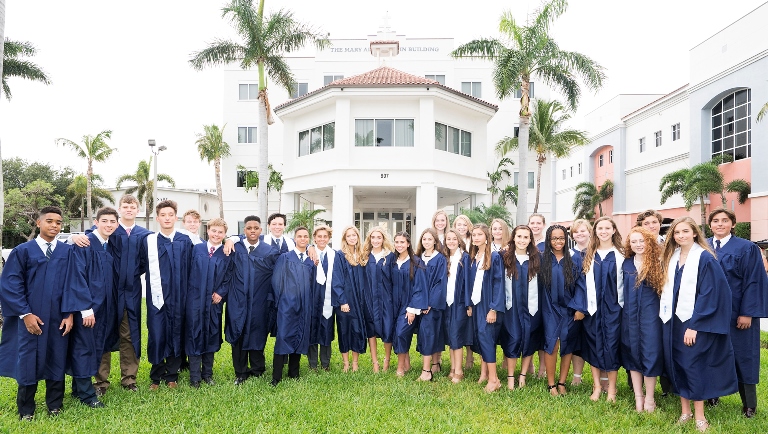 Rosarian Academy, founded in 1925, educates students from early childhood through eighth grade and offers an exceptionally strong academic program enriched by athletics, visual and performing arts, and community service opportunities. The independent, Catholic school is located on Flagler Drive in downtown West Palm Beach and is sponsored by the Adrian Dominican Sisters. Complimentary bus service is available throughout Palm Beach County. For more information, visit www.rosarian.org or call 561.345.3106.
Rosarian Academy's Class of 2018 will matriculate to the following high schools:
Alexander Dreyfoos School of the Arts
Robby Vargas

American Heritage School
Caleb Curtis
Lily Diffenderfer
Madison Fabbri
Macarena Gonzalez-Cabanellas
Asheville School
Elizabeth Guerrieri
The Benjamin School:
Emma Hardyman
Logan McGruder
Cardinal Newman High School:
Christian Azqueta
Georgia Blumel
Jack Keogh
Foxcroft School
Elise Lanahan

Jupiter High School
Mercedes Cassidy (Environmental Research and Field Studies Academy)
Finn Throop
Oxbridge Academy:
Spencer Bernstein
Jamis Bornschein
Wilder Breckenridge
Grace Colangelo
Brandon Dorsey
Sara Gil
Chase Koeppel
Finley Murray
Margot Smith
The Pine School:
Delaney Groth
Saint Andrew's School:
Joseph Coates

St. Thomas Aquinas High School
Maggie Acosta
Suncoast Community High School
Haiden Hersey
Morgan Roberts (Innovative Interactive Technology)
Undecided
Wisner Jean
Kalla Kerkorian