ROSARIAN ACADEMY'S SLEEPING BEAUTY KIDS TAKES PACKED HOUSE 'ONCE UPON A DREAM'
November 2017
Showcasing a cast of 40 first-through-fourth-grade Rosarian Academy students, Sleeping Beauty KIDS took the audience once upon a dream with the classic fairytale on Saturday, November 4, 2017. The young talent performed in front of a sold-out house in the school's 485-person professional theatre. The musical cast was led by the developing, yet captivating, talent of third-graders and first-time performers Anne Calas (Maleficent) and Laing Supple (Sleeping Beauty).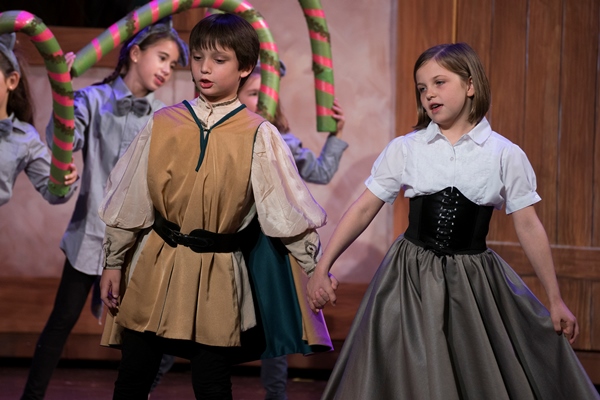 Based on the 1959 Disney animated film, Sleeping Beauty KIDS tells the story of the beautiful Princess Aurora and the spell that the evil Maleficent casts upon her—before the sun sets on her sixteenth birthday, she will use her finger to touch the spindle of a spinning wheel and fall into a deep sleep. In an effort to protect the princess, three good fairies—Flora (Heidi Alcime), Fauna (Caroline Mischke), and Merryweather (Emily Ding)—take the princess away to a woodcutter's cottage in the forest until the day of her sixteenth birthday and rename her Briar Rose. Shortly after she meets and falls in love with Prince Philip (Jack Freitas) on her sixteenth birthday, Maleficent finds the princess and tricks her into touching an enchanted spinning wheel, completing the curse. The good fairies thwart Maleficent with a spell that wakes Aurora with true love's kiss.
The performance showcased live musicians and professional stage design and costumes, including a grand finale featuring Maleficent's life-size dragon (8' tall and 16' long) that was maneuvered around the stage by three eighth-grade puppeteers—Mercedes Cassidy, Delaney Groth, and Emma Hardyman. The dragon was part of the final battle between Maleficent and her goons versus Prince Philip and the good fairies' court. Good ultimately defeated evil as Prince Philip slayed the dragon. The dragon first appeared in Rosarian's production of Shrek (2015) and was built by Casey Blanton, Property Master at the Maltz Jupiter Theatre.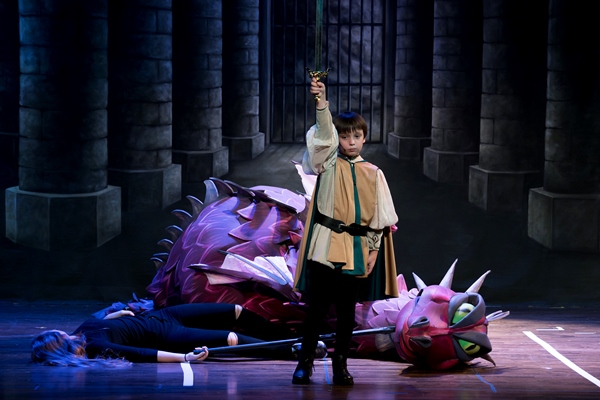 The musical was produced and directed by Robert Sherman, with musical direction by Gay Dedo, choreography by Jeanne Bennett and Courtney Poston, scenic and lighting design by area-professionals Sage Neighbors and Ardean Landuis, and costume design by Jeanne Bennett and alumnus William Linn (Class of 2001).
Led by Mr. Sherman, Rosarian started lower school productions eight years ago with It's Showtime, followed by It's Showtime 2, Willy Wonka,Cinderella, Aladdin, The Lion King, The Music Man KIDS and this year's Sleeping Beauty KIDS. All shows are shortened versions of the Broadway productions. The music is adapted for younger voices, yet, is still challenging.
Rosarian Academy gives children from first through eighth grade the opportunity to participate in fully-staged and executed productions, directed by professionals with real-world theatrical experience. Students in kindergarten begin attending drama classes.
Rosarian Academy, founded in 1925, educates students from early childhood through eighth grade and offers an exceptionally strong academic program enriched by athletics, visual and performing arts, and community service opportunities. The independent, Catholic school is located on Flagler Drive in downtown West Palm Beach and is sponsored by the Adrian Dominican Sisters. Bus service is available throughout Palm Beach County. For more information, visit www.rosarian.org or call 561.345.3106.