THE KING'S ACADEMY ACADEMIC TEAMS WIN TOP HONORS!
February 2018
This year, The King's Academy brought three Science Olympiad teams to the regional competition at the University of Miami. King's came home with three 1st place medals, eight 2nd place medals and seven 3rd place medals to total an overall count of 18 event medals.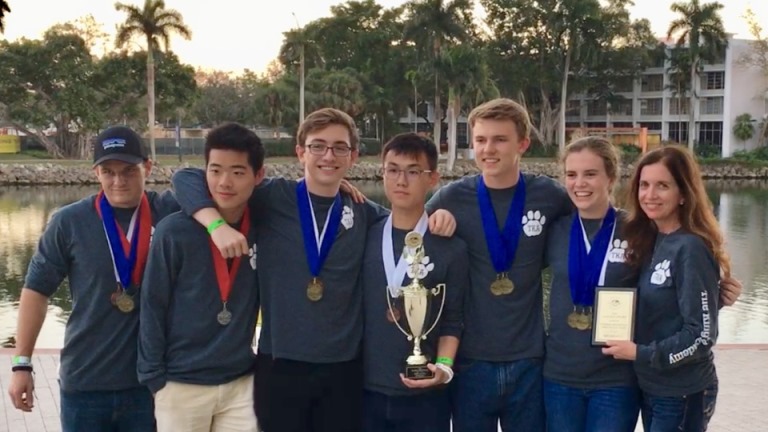 Science Olympiad Earns 1st Place
Additionally, one of King's teams earned a 1st place win overall and has qualified for the state competition at University of Central Florida in March. The team is organized by King's teachers Jennifer Arrington, Keith Allen, Mary Virkler, Cherri Carruthers.
"Once again, King's students were a superior mix of hard work, intelligence, great attitude, and enthusiasm. I could not be more proud or thankful for our teams' success," said King's science teacher Jennifer Arrington. "Onward to states!"
Mock Trial Team Earns 2nd Place
The King's Academy earned second place in the Fifteenth Judicial Circuit, which is one of the most competitive circuits in the state.
The Mock Trial competition is organized by the Florida Law-Related Education Association, and is a state-wide competition throughout the twenty judicial circuits in Florida. This was the first year King's participated in the competition. Denise Brown, Director of the Pre-Law Program at King's, started the team this fall.
The Mock Trial roster included:
Tyler Chin-Lenn (sophomore) *Lead Counsel for Plaintiff
Julia Lubitz (freshman) Counsel for Plaintiff and Witness for Defendant
Jack Du (senior) Counsel for Plaintiff
Angela Lares (junior) *Lead Counsel for Defendant
Logan Othmer (senior) Counsel for Defendant
Amy Heaton (freshman) Counsel for Defendant and Witness for Plaintiff
Madison Evasius (sophomore) Expert Witness for Plaintiff and Defendant
Gavan Keen (freshman) Witness for Plaintiff and Defendant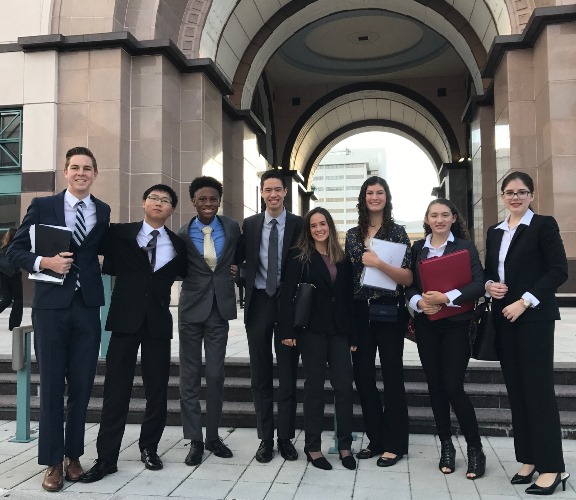 National History Day Students Place and Advance to States
The TKA history department was proud to hold its first National History Day competition on January 11, 2018. Honors middle school and high school history classes created exhibits, documentaries, websites, performances, and historical papers to showcase research related to the contest theme-Conflict and Compromise. The first and second place school winners in each category were selected to compete against 12 area public and private schools at the Palm Beach County competition held at Park Vista High School on February 16.
These talented students truly represented The King's Academy with excellence as seven projects and 13 students will advance to Florida History Day, the state level contest, to be held in Tallahassee from May 6-8 where over 1100 students from around the state are expected to compete.
The National History Day program culminates with the national contest held from June 10-14 in College Park, MD with first and second place winners from all 50 states, U.S. territories, and international schools from Asia competing.
The list of County winners from King's include:
Middle School:
Joshua Zuchowski- 1st Place Historical Paper
Cristina Lahud- 1st Place Individual Exhibit
Yvette Chamoun, Ava Fountain, Mackenzie Gorton- 3rd Place Group Exhibit
Carmen Majano- 3rd Place Individual Website
Mackenzie Dunn, Emily Henning, and Ella Rodilla- 3rd Place Group Website
High School:
Brenna Dunn and Elisabeth Halbig- 1st Place Group Website
Molly Erneston and Emily Kintz- 2nd Place Group Website
Kaihua "William" Hou- 2nd Place Individual Documentary
Finnagan Anthony, Sarah Geller, Chris Pappas, and Mark Witzen- 1st Place Group Documentary
Chris Santiago and Emilio Machado- 2nd Place Group Documentary
King's history fair coordinator, Nikki Berger, was inspired by the success of TKA students in their first NHD competition.
"I look forward to continuing to build the program and watching our students further develop the critical thinking, writing, research, and 21st century technological skills that this program incorporates and supports."
The King's Academy is a National Blue Ribbon, Christian school serving more than 1,400 students from preschool through 12th grade, and is accredited by AdvancEd, the Southern Association of Colleges and Schools, the Association of Christian Schools International, and the Florida Association of Christian Colleges and Schools. The King's Academy serves students and their families across Palm Beach County, Florida, at its campus at Belvedere Road and Sansbury's Way in West Palm Beach and its satellite preschool campuses in Boynton Beach, Greenacres, Loxahatchee/Wellington, Palm Beach Gardens, and Royal Palm Beach. More information about The King's Academy is available at www.TKA.net.