THE KING'S ACADEMY LAW PROGRAM LAUNCH
December 2017
The King's Academy formally launched its Christian Pre-Law program on Wednesday with an explanation of the program and announcement of major gifts given to underwrite and endow the program for decades to come!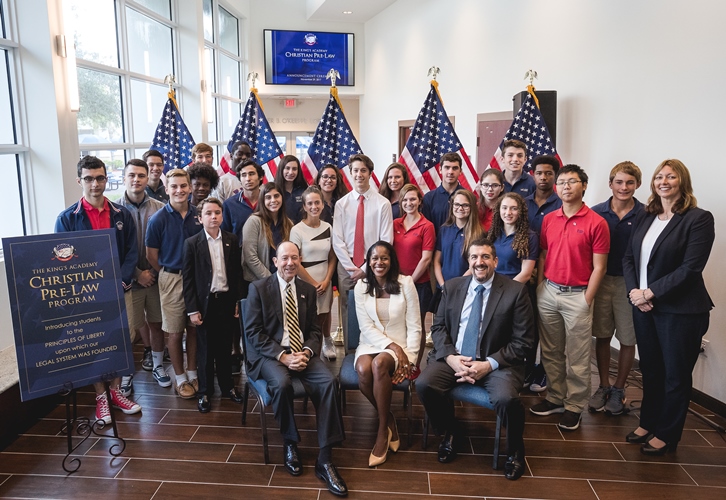 TKA Pre- Law Students, Hawkins, Baker-Barnes, David Nammo, Denise Brown
TKA Board Chair Dr. Clyde S. Meckstroth ('77) welcomed a crowd of about 100 guests and students to the Esther B. O'Keeffe Lobby of the Page Family Center for Performing Arts before Callahan Burton ('21) and Logan Othmer ('18) led the assembly in the Pledge of Allegiance and Prayer, respectively. President Randy Martin shared the inception and long-term vision for the program, then Director of Development Glenn Martin ('88) announced gifts totaling $1,250,000 given to The King's Academy to fund the nation's first high school Christian pre-law program focused on the principles of liberty upon which the United States of America was founded. The King's Academy piloted its pre-law program in 2016 and launched a full slate of classes this school year. Recognizing TKA's commitment to excellence in all that it does, donors sought to accelerate the school's development of this groundbreaking program and to empower TKA to become the preeminent proponent of liberty principles such as free speech, free markets, individual liberty, and limited government. Along with the announcement of the initial major gift, the potential for another $1,000,000 through a matching gift challenge was presented.
TKA Christian Pre-Law Program Director Denise Brown (JD, MBA) presented the entire slate of courses available to students, along with Mock Trial Team and Club details. She then introduced Angela Lares ('19) and Matthew Simon ('20) who each spoke about their experience in law classes, excitement about future opportunities, and appreciation for TKA innovation in offering the program which includes courses in Introduction to Law, Business Law and Ethics, Constitutional Law, Criminal Law, and the capstone course Legal Advocacy Skills.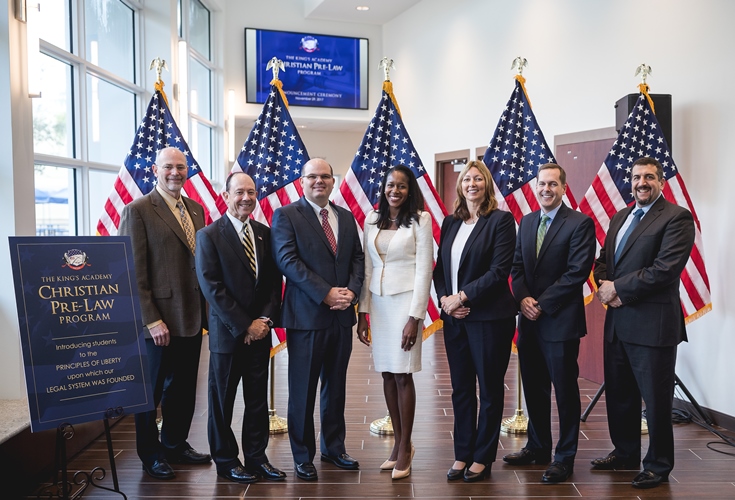 Dr. Clyde Meckstroth, Hawkins, Doug Raines, Baker-Barnes, Brown, Randal Martin, Nammo
Following the impressive addresses by the students, Headmaster Doug Raines introduced three distinguished guest speakers: David Nammo (National CEO of the Christian Legal Society), Sia Baker-Barnes (TKA parent and president of the Palm Beach County Bar Association), and Scott Hawkins (alumni parent, past president of the Florida Bar, and current Chair of the University of Florida Law School). Each touched on the various ways in which study of the law and principles of liberty which undergird the US legal system are vital to our freedom and to justice in a country which upholds the rule of law and the constitution. Baker-Barnes and Hawkins particularly talked about how encouraging it is to see TKA embarking on this innovative approach and encouraged students to take advantage of the opportunities as they strive to learn leadership. Hawkins concluded with the verse from Micah 6:8 "what does the LORD require of you but to do justice, and to love kindness, and to walk humbly with your God?"
If you are interested in supporting the program and doubling or even tripling your gift through the matching gift challenge, contact the Development Office.
The King's Academy is a National Blue Ribbon, Christian school serving more than 1,400 students from preschool through 12th grade, and is accredited by AdvancEd, the Southern Association of Colleges and Schools, the Association of Christian Schools International, and the Florida Association of Christian Colleges and Schools. The King's Academy serves students and their families across Palm Beach County, Florida, at its campus at Belvedere Road and Sansbury's Way in West Palm Beach and its satellite preschool campuses in Boynton Beach, Greenacres, Loxahatchee/Wellington, Palm Beach Gardens, and Royal Palm Beach. More information about The King's Academy is available at www.TKA.net.