CHECKMATE FOR ROSARIAN ACADEMY CHESS CLUB STUDENTS
January 2019
Six Rosarian Academy students who are part of the after-school chess program participated in an unrated tournament last Saturday, January 19 at The Greene School. The tournament included three divisions: K-1, 2/3, 4/5. The Rosarian participants placed as follows: Jack Freitas (grade 4), silver medal; Julian Naranjo (grade 3) tied for second place; Sophia Curran (grade 3), sportsmanship award; Carter Osiecki (grade 2), silver medal; Macallan Heinemann (grade 1), sportsmanship award; Mary Douglas Brown (grade 1), sportsmanship award. Kindergartner Preston Curran also competed.
Rosarian third-grader Sophia Curran competes in chess tournament at The Greene School.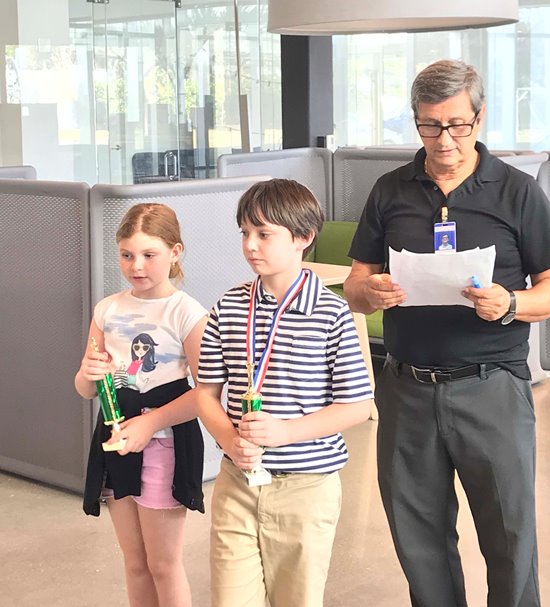 Sophia Curran (3rd grade) and Jack Freitas (4th grade) hold their awards next to chess coach Antonis Loudaros.
The Rosarian chess program is led by Coach Antonis Loudaros. Mr. Loudaros was a gifted/math teacher and chess coach for more than 30 years and was the founder of the chess program in Palm Beach County. He has coached 18 times at national championships and 32 times at state championships. Mr. Loudaros also coaches students from The Greene School, Elbridge Gale Elementary and Palm Beach Chess Academy.
Rosarian Academy, founded in 1925, educates students from early childhood through eighth grade and offers an exceptionally strong academic program enriched by athletics, visual and performing arts, and community service opportunities. The independent, Catholic school is located on Flagler Drive in downtown West Palm Beach and is sponsored by the Adrian Dominican Sisters. Bus service is available throughout Palm Beach County. For more information, visit www.rosarian.org or call 561.345.3106.