MAST AND WILLHITE TO SPEAK AT FALL COMMENCEMENT
December 2018
(WEST PALM BEACH, Fla. - Dec. 3, 2018) U.S. Rep. Brian Mast and State Rep. Matt Willhite, who both were re-elected to second terms in November, will be the keynote speakers at the Palm Beach State College fall commencement ceremonies for more than 3,000 expected graduates.
The ceremonies are set for Dec. 19 at the South Florida Fair Expo Center in West Palm Beach. Mast will speak at the 9:30 a.m. ceremony for the graduates of the Associate in Science, Bachelor of Applied Science and Bachelor of Science degree programs and the certificate programs. Willhite, a PBSC alumnus, will speak at the 2 p.m. ceremony for graduates of the Associate in Arts transfer degree. Both ceremonies will be streamed live at www.palmbeachstate.edu.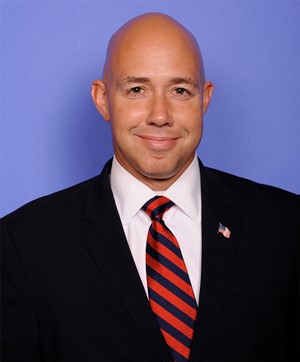 Mast, who represents Congressional District 18, currently is a member of the Foreign Affairs Committee, Transportation and Infrastructure Committee and Veteran Affairs Committee. Prior to his first election to Congress in 2016, he followed in his father's footsteps by serving in the U.S. Army for more than 12 years, earning the Bronze Star Medal, the Army Commendation Medal for Valor, the Purple Heart Medal, and the Defense Meritorious Service Medal. While deployed in Afghanistan, he worked as a bomb disposal expert under the elite Joint Special Operations Command. The last improvised explosive device that he found resulted in catastrophic injuries, which included the loss of both of his legs.
Willhite is a longtime resident of Palm Beach County. In 2008, he was elected to serve the residents of the Village of Wellington as a councilman and vice mayor. He won his first successful bid in 2016 to represent District 86 in the Florida House of Representatives. He is currently the acting chair of the Palm Beach County Legislative Delegation and chair of the Florida Veterans and Military Families Caucus.
Willhite served for eight years in the United States Navy as a corpsman, and he has spent the last 22 years as an employee with Palm Beach County Fire Rescue where he holds the rank of captain. He is the only active duty firefighter in the Florida Legislature.
Serving 49,000 students annually, Palm Beach State College is the largest institution of higher education in Palm Beach County, providing bachelor's degrees, associate degrees, professional certificates, career training and lifelong learning. Established in 1933 as Florida's first public community college, Palm Beach State offers more than 130 programs of study at locations in Lake Worth, Boca Raton, Palm Beach Gardens, Belle Glade and Loxahatchee Groves.