PROVOST NOW LEADS CAMPUS WHERE SHE TOOK HER FIRST CLASS
February 2019
(PALM BEACH GARDENS, Fla. – Feb. 14, 2019) When Dr. Tunjarnika Coleman-Ferrell enrolled in summer classes at Palm Beach State College in Palm Beach Gardens in 1990, she never imagined that she would one day lead the campus.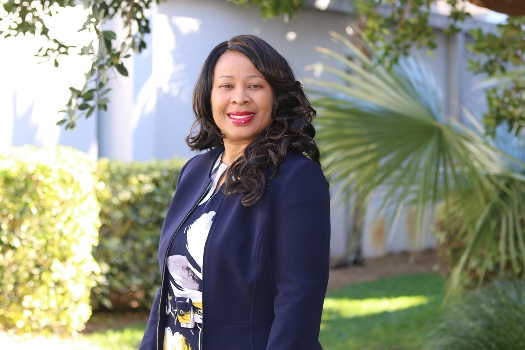 She was a freshly minted Palm Beach Gardens High School graduate with a full scholarship to Washington and Jefferson College and who had plans to become a medical doctor. However, before packing her bags and leaving her South Florida roots for the private liberal arts school in Pennsylvania, she got a head start on College at PBSC through Fast Break taking courses in the summer before starting her freshman year.
"At the time, I was a premedical student, but I always knew the goal was to help people. Although I decided not to go to medical school, I'm living my dream because I'm helping all people reach their goals," said Coleman-Ferrell, who is the new provost and dean of student services at the Palm Beach Gardens campus and among the newest members of President Ava L. Parker's executive leadership team. Coleman-Ferrell was appointed to the role last December after spending 20 years at the Boca Raton campus as a professor and administrator. Her path to get there is partly what drives her passion.
After losing both of her grandfathers during her freshman year at Washington and Jefferson, she returned home and enrolled in fall 1991 at Florida Atlantic University, which also had offered her a full scholarship. She eventually earned four degrees from FAU: a bachelor's degree in sociology, master's degree in public administration, an educational specialist degree and a doctorate in education. Her career also blossomed. She joined the College in 1998 as a professor of teacher education after working more than two years as a middle school teacher of business and computer application classes in Broward County. She served as a department chair for six years and associate dean for four years before being promoted to dean of academic affairs at the Boca Raton campus in 2015.
Coleman-Ferrell, a Riviera Beach native who was crowned the first black Miss Palm Beach Gardens High School, said the move to the northern campus is "like coming back home."
"It's a wonderful opportunity for me to be able to pay it forward and give back to the younger people in my community,'' said Coleman-Ferrell, noting that she also attended elementary and middle school in Palm Beach Gardens.
She began her new role as her one-year term as president of the Association of Florida Colleges was ending. She has spent her first months getting to know more deeply the students, employees and leaders on the campus and in the community. She has already implemented several initiatives and events to help engage the community and students. They include hosting an upcoming signature event to encourage community members to become ambassadors for the campus, working closely with local chambers, supporting career readiness initiatives with businesses and mentoring students through creating opportunities like Pizza with the Provost in which students can discuss hot topics on campus over lunch.
"We are an amazing campus. Through continued strengthening of community partnerships in the northern corridor, building business relationships with an increased focused on connection to industry for career readiness and being a visionary servant leader for students, faculty and staff, together I know we will take what's already a great campus to the next level."
Serving 49,000 students annually, Palm Beach State College is the largest institution of higher education in Palm Beach County, providing bachelor's degrees, associate degrees, professional certificates, career training and lifelong learning. Established in 1933 as Florida's first public community college, Palm Beach State offers more than 130 programs of study at locations in Lake Worth, Boca Raton, Palm Beach Gardens, Belle Glade and Loxahatchee Groves.