ROSARIAN STARS OF 'TOMORROW' PERFORM ANNIE KIDS TO SOLD-OUT AUDIENCE
November 2018
'Bet your bottom dollar' that Rosarian Academy's performance of Annie KIDS had the audience singing along with the adorable little orphan Annie and her friends. This all-time favorite was performed by Lower School students on Saturday, November 3, 2018. Showcasing a cast of 37 first-through-fourth-grade stars of 'tomorrow,' Annie KIDS had all 485 audience members 'grinning ear to ear' and leaving fully dressed with smiles.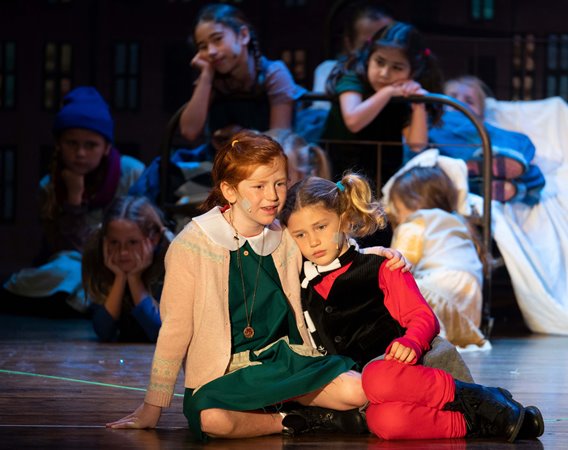 Annie (4th grader McKenna Boysan) consoles the youngest orphan Molly (Serena Curran) while Annie sings "Maybe" and dreams of having parents of her own.
Annie's cast was anchored by fourth-grade students: McKenna Boysan (Annie), Annabelle Damiano (Miss Hannigan), Hayley Duncker (Lily St. Regis), Emma Flynn (Tessie), Jack Freitas (Oliver Warbucks), Eva Furlo (Irene/Servant/Usherette), Amelia McCarthy (July/Servant), Chase Rehm (Rooster Hannigan), and Laing Supple (Grace Farrell). New to Rosarian this school year, McKenna Boysan had the courage to audition for the play on the second day of school. McKenna's voice and stage presence quickly secured her role as the lead, and her natural red hair was a feature to boot. Chase Rehm's rhythm and moves perfectly fit the role of Rooster Hannigan. Two talented first graders, Serena Curran (Molly) and Tristan Catalano (Mr. Bundles/Bert Healy), found their way to speaking roles. The cuteness factor of all 22 orphans dancing and singing together in harmony wouldn't have left them parentless for long!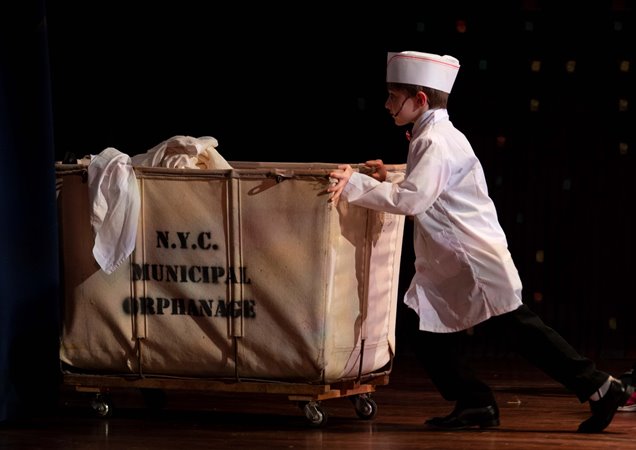 Mr. Bundles (1st grader Tristan Catalano) wheels away the laundry from the orphanage with Annie hiding inside as she attempts to run away.
The musical was produced and directed by Robert Sherman, with musical direction by Gay Dedo, choreography and costume design by Jeanne Bennett, and scenic and lighting design by area-professional Ardean Landuis.
Annie (4th grader McKenna Boysan) sings "Tomorrow" with Sandy (3rd grader Vivian Lanahan), the stray dog she finds.
Rosarian started Lower School productions nine years ago with It's Showtime, followed by It's Showtime 2, Willy Wonka, Cinderella, Aladdin, The Lion King, The Music Man KIDS, Sleeping Beauty KIDS, and this year's Annie KIDS. All shows are shortened versions of the Broadway productions. The music is adapted for younger voices, yet, is still challenging.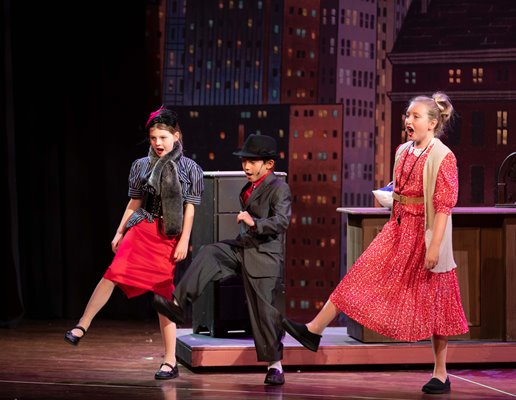 4th graders Hayley Duncker (Lily St. Regis), Chase Rehm (Rooster Hannigan), and Annabelle Damiano (Miss Hannigan) sing "Easy Street" as they scheme how Annie is the key to their future fortune.
Performing arts is an integral part of the Rosarian Academy curriculum. Beginning in kindergarten, students experience drama as a co-curricular offering. Once they reach first grade, they have the opportunity to participate in fully-staged and executed productions, directed by professionals with real-world theatrical experience. The theater program helps improve, empower, and nurture the individual and develop self esteem, a sense of teamwork, and ensemble building. Two theater productions are held each school year where students are encouraged to take part either on stage or behind the scenes. In addition to Annie KIDS, the Middle School will perform a musical in the spring of 2019.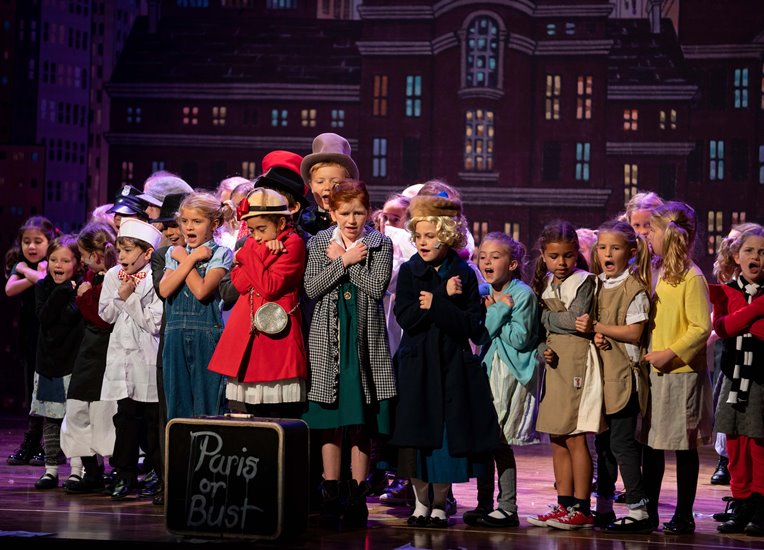 The entire Annie KIDS ensemble sings "N.Y.C."
Lily St. Regis (Hayley Duncker) and Rooster Hannigan (Chase Rehm) disguise themselves as Shirley and Ralph Mudge and pretend to be Annie's (McKenna Boysan) real mom and dad to get $50,000 from Oliver Warbucks (Jack Freitas).
Rosarian Academy, founded in 1925, educates students from early childhood through eighth grade and offers an exceptionally strong academic program enriched by athletics, visual and performing arts, and community service opportunities. STEM, coding, art, drama, music theory, and Spanish classes begin in kindergarten. The independent, Catholic school is located on Flagler Drive in downtown West Palm Beach and is sponsored by the Adrian Dominican Sisters. Complimentary bus service is available throughout Palm Beach County. For more information, visit www.rosarian.org or call 561.345.3106.

(Photography by David Scarola Photography)