It's official. The 64 members of the class of 2022 are among the nation's newest physicians. Florida Atlantic University's Schmidt College of Medicine held its eighth commencement ceremony today in the Carole and Barry Kaye Auditorium . Family, friends, faculty and other guests celebrated this long-anticipated day as graduates walked across the stage to be "hooded" – a symbolic rite of passage from one generation of physicians to the next – and to receive their Doctor of Medicine (M.D.) degrees.
With Florida expected to be short nearly 18,000 physicians by the year 2035, the event was welcoming news for the state's public health.
Last month, during Match Day, all 64 members of the class of 2022 matched for residency programs, which are required for physicians to become license-eligible (board certified).
"Class of 2022, as you embark on the next phase of your life remember not to go it alone. Surround yourselves with the entire medical community of physicians, nurses, therapists, social workers, physician assistants, ward clerks and others who will rally behind you and become your vital support system," said Julie G. Pilitsis, M.D., Ph.D., dean and vice president of medical affairs, FAU's Schmidt College of Medicine. "Medicine is a team sport and if you embrace the comradery, you will be happier in your careers and be less likely to suffer burn out. Always remember, 'if you want to go fast, go alone. If you want to go far, go together.'"
Geoffrey H. Young, Ph.D., senior director of the new Transforming the Health Care Workforce of the Association of American Medical Colleges (AAMC), provided the keynote address. Young shared his insight on the education and professional development of future health care workers along with creating viable pathways for historically excluded groups to enter the health care profession. His team is recognized as a leader in holistic review in selection and pre-medical and applicant resources to provide inspiration, data, tools and other resources so that anyone can aspire to a career in medicine. Transforming the Health Care Workforce aims to significantly increase the number of underrepresented medical school applicants and matriculants.
Among the medical school's class of 2022 are seven graduates who will train in emergency medicine, which has seen a drop in residency positions filled this year. There were 219 unfilled positions in the United States and 38 unfilled positions in Florida. Michigan had the most unfilled positions with 46 followed by Florida with 38.
While the American College of Emergency Physicians and the National Resident Matching Program have sited various possible reasons for these unfilled positions such as the COVID-19 pandemic and recently released workforce projections, FAU graduates Rohan Janwadkar, M.D., and Sara Twadell, M.D., remained true to their passion for emergency medicine.
"When I entered medical school I was unsure of the specialty I wanted to pursue until my third year when I had the opportunity to work as part of the FAU emergency medicine team," said Janwadkar. "There a so many aspects of this specialty that appeal to me including being part of a highly skilled team; dealing with a variety of cases in the emergency room from heart attacks and strokes to life-threatening infections and traumas; and most importantly, being there for all patient populations no matter what the circumstance."
Janwadkar and Twadell graduated with fellow FAU emergency medicine classmates Joy McLaughlin, M.D.; Sarah Rabinowitz, M.D.; Jacob Rosenfeld, M.D.; Michael Simones, M.D.; and Marcella Zamis, M.D.
"Emergency medicine wasn't on my radar until my third year of medical school right at the height of the COVID-19 pandemic," said Twadell. "I really bonded with the emergency medicine physicians and residents and it just felt right. I have always wanted to be a doctor who could treat anyone of any age, any gender or any illness. Now, working in this specialty, I can be a doctor for all people."
In line with the medical school's mission, approximately 30 percent of the class of 2022 will conduct their residency in Florida. Twenty of the 64 members of the class will specialize in primary care including family medicine, internal medicine and pediatrics. The class also matched in other highly specialized fields that are among the most competitive in the match process, including internal medicine/pediatrics, dermatology, orthopedic surgery, obstetrics/gynecology, ophthalmology, and neurological surgery, among others.
Among the various Florida institutions where FAU's class of 2022 placed are Mayo Clinic School of Graduate Medical Education in Jacksonville; University of South Florida Morsani College of Medicine in Tampa; University of Miami/Jackson Health System in Miami; Memorial Healthcare System, Pembroke Pines; University of Florida College of Medicine – Shands Hospital, Gainesville; and FAU.
The class of 2022 also placed in several top institutions nationally, including Emory University School of Medicine in Atlanta; Massachusetts General Hospital in Boston; New York-Presbyterian/ Columbia University Medical Center in New York; University of Chicago; Mayo Clinic School of Graduate Medical Education in Jacksonville; and UCLA Medical Center in Los Angeles.
Following the graduation ceremony, the class of 2022 and guests enjoyed a special reception in the Live Oak Pavilion.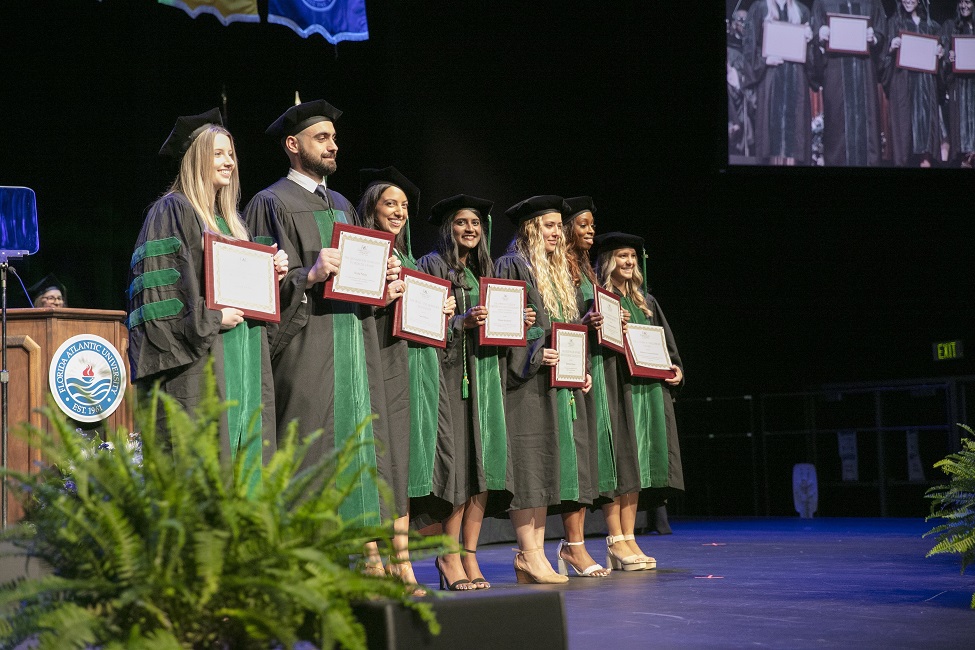 -FAU-
Source: Florida Atlantic University